Rich Mountain Resources to Benefit Local People: Zhou's Ambition for Jin'e Village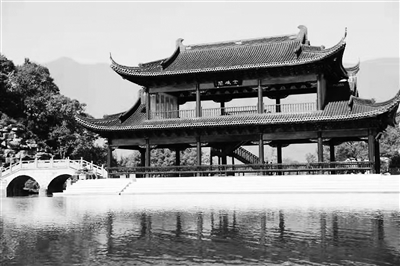 The scene of the Jin'e village.
  Five days before New Year 2022, Jin'e Village – in Ningbo's Fenghua District – is ready for visitors who will be anticipating the information displayed on a large digital screen concerning local industry, tourist numbers and public services. Village roads are uniquely lined with garden plants that have specific information attached. It is convenient to purchase the one you like by ordering it through the applet "Jin'e yuan" on Wechat or online with the Jin'e Agriculture Museum.
  离元旦还有5天,金峨村俨然已做好了待客的准备。在金峨村数字大屏上,时刻跳动着村里有关乡村产业、游客人数、公共服务等各类信息。道路两旁搭配着待售的苗木,每棵苗木上都挂了一张"身份证",只需通过"金峨缘"小程序或网上农博金峨馆,游客就能了解价格,一键购买。
  Various modern amenities appeal to tourists and brand-new campsites and coffee shops are opening on New Year's Day. However, back in the 1990s, Jin'e Village used to be a municipal poverty-stricken village. Zhou Kangjian, secretary of the CPC party branch of Jin'e Village, has been promoting the development of the village and it now attracts more than 100,000 visitors annually.
  各类现代化的设施,让前来打卡的游客一目了然,还有时新的露营基地、云顶咖啡将在元旦开放……不曾想到,一个"脏乱差"的市级贫困村,已成为年接待游客达十万人次的"网红村"。促使这一切发生美丽"蝶变"的"孵化师",正是金峨村党支部书记周康健。
  In 1994, with the encouragement of the local organization, Zhou shut down his promising factory to work as the head of Jin'e Village.
  "Poverty eradication is the vital step of development," Zhou states. After running a business for years, he has a keen market sense "After the reform and opening up, the progress of urbanization has accelerated. This evolution has also led to an increased focus on urban greening."
  1994年,周康健在当地组织部的动员下,放弃自己当时正办得红火的工厂回到金峨村做村长。
  "脱贫是第一步!"办过企业的周康健有敏锐的市场嗅觉,"改革开放以后,城市化推进的进程加快,我认为城市绿化的需求量是比较大的。"
  Zhou took the initiative to invest 300,000 RMB in planting camphor as well as Osmanthus trees and made a net profit of 500,000 RMB the following year. This boosted confidence and encouraged further investment in garden plants from other villagers. A company operating in the mode of "base + villagers" was started and the main business is urban greening.
  为了打消村民的顾虑,周康健自己带头,投入30万元种植香樟、桂花,结果第二年就净赚50万元,这一下,原先对种植花木还心存疑虑的村民,纷纷开始效仿。为此,村里还成立了花木公司,以"基地+农户"模式走精细化经营之路,专门供应城市绿化工程。
  Year after year, villagers are having much better lives compared with the old days.
  "Villagers were expecting more about the living environment with the massive development of the village." Led by Zhou Kangjian, the village has made great progress in the construction of a new countryside since 2001, demolishing the old and building the new, transforming some residential areas to farmland, and integrating the six scattered natural villages.
  年复一年,村民们的腰包越来越鼓,金峨村也成为了远近闻名的富裕村。
  "村民们生活富裕了,对居住环境有了新期盼。"2001年起,周康健带领村班子大力开展新农村建设,拆旧建新,退宅还耕,原本分散的6个自然村得到充分融合。
  "With rich resources on the mountain, people are better off in life." That's the true story in Jin'e Village. Over the past ten years, more than 300 new residences in four batches have been built in the Village, including more than 240 villas and over 80 apartment buildings. Among 410 households in the village, two-thirds of them have moved to new residences.
  "山上绿色银行,山下别墅成行"是金峨村的生动写照。近10年间,金峨村分四批建起了300多套新房,其中别墅240余套,套房80多套。全村410多户村民,三分之二乔迁新居。
  Ying Herong, a local of Jin'e Village, turned one of his houses into guesthouses that help to meet the demand of increasing visitors. "It's been nearly a year. The profit is about 70 to 80 thousand RMB. A good deal."
  应和荣是地地道道的金峨村村民。这几年,他看到一辆辆大巴车往村里开,就动起了办民宿的念头,他将自己分到的其中一间"别墅"改成了民宿,做得像模像样。"开业到现在快一年了,差不多赚了七八万元,挺不错的。"
  How to benefit more people and achieve common prosperity? A Regional Party Building Consortium was established in May, 2015. Five villages along Jinxi River – namely Leishan, Jiangjia Chitou, Shuiwuchang, Jin'e and Yujiaba – were to embark on the business of well-being under the leadership of Zhou Kangjian.
  如何由"一村富"变为"共同富"?2015年5月,金溪五村区域党建联合体落地生根。作为"金溪河畔领路人",金峨村党支部书记周康健主动挑担,带领金溪河沿岸的雷山村、蒋家池头村、税务场村、金峨村、余家坝村5个小山村抱团取暖。
  To develop agriculture and local tourism in combination, Zhou explored unique business models including harnessing the Jinxi River and building mountain trails. The village invested 2 million RMB to develop the Jinxi rafting project in 2016, which increased the collective income of each village by about 20,000 RMB annually. Meanwhile, local tourism has been booming after the launch of the Azalea Festival. Visitors come not only for appreciation of flowers, but meals and lodging and new business opportunities.
  With the new year approaching, cold days are colored by warm sunshine. Standing on the newly built Jin'e Pavilion, Zhou has great confidence in the future of rural development.
  从治理金溪河,修建登山道开始,周康健谋划着全域旅游发展版图,发展"美丽经济",探索农旅结合的新路径。2016年,投资200万元开发金溪漂流项目,为各村每年增加集体收入约2万元。同年,金峨村推出杜鹃花节以后,旅游产业明显带来了人气。游客从观花到买花,从吃饭到住宿,给大伙儿带来了新的商机。
  "在这里,看到乡村未来,金峨村是有信心的。"临近年末,冬日的暖阳洒在周康健身上,他站在年初刚建的金峨阁上,目光坚定地眺望远方。
  Reporter: Hu Qi
  Contributor: Chen Yin'er
  Translator: Mei Jie
  Proofreaders:Puyang Rong, Huang Dawang, Jason Mowbray